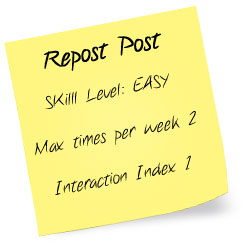 Does your business have a blog? Do you feel like you have "writer's block" more often than not? Read this series on Blog Posts Made Easy to see how you can make your blog posts easier to write.
This first article in the Blog Posts Made Easy series shows how you can share an article in minutes by using what we call the "Repost Post" blogging style. It's great for those days when you need a quick post.
Repost Post Blogging Style

Skill Level: EASY | Use Max 2 times per week | Interaction Index 1  (on a scale from 1 low-5 high)

To repost a post, simply republish content from an article you like. The article can come from a Facebook link, Twitter, LinkedIn or even YouTube link, or from e-Newsletters, Magazines, Newspapers, etc., or any blog post you like.
The key to this Blog Posts Made Easy tip: you add  additional limited original content. Here's all you need to write:
1. Headline: Write your own compelling headline for the article rather than copy the article's original headline.
2. Intro: Introduce your subject and the article you have chosen to support your key points.
3. Content: Follow These Best Practices When Reposting a Post:
Quote interesting portions of the article rather than the whole article
Add your own ideas on the topic
Always include a link to the article and the author
Never paste a photo directly from another website directly into your post editor – besides violating copyright laws, this causes hot-linking which steals the bandwidth from the original post site
Use your own images see Rick's Tips: 5 Favorite Low Cost or Free Image Sources for WordPress Blog Posts
Rick's Tip: WordPress Users combine Press This with best practices for lightning fast results.
4. Conclusion: Sum up the benefit of your sharing this valuable information with a "call to action."
Example:
Keeping residents happy…and apartment profits up!
Move Up in the Google Search Rank
Resource Links:
Social Fresh How to Use Content from Other Blogs without Violating Copyright
Our simple 4 step blog formula combined with popular blogging styles with your creative touch and useful info equals high quality posts for your blog this year. Keep following our Blog Posts Made Easy Series for next 4 posting styles.
Contact Post
Series Post
List Post
Regular Feature Post
Sue Surdam |
Artizon Digital
| WordPress Specialist and Social Media Solutions